Product Summary
The LT1088CD is a thermally based RMS-DC converter building block. It converts the input waveform to heat. The LT1088CD'high voltage breakdown allows crest factor measurements of 50:1 and operation over a 20:1 input dynamic range. The applications of the LT1088CD are wideband RMS voltmeters, RF leveling loops, wideband AGC, high crest factor measurements, SCR power monitoring.
Parametrics
LT1088CD absolute maximum ratings: (1)voltage on any pin:V- + 40V to V-; (2)voltage from channel A to channel B:100V; (3)reverse diode voltage:3.5V; (4)forward diode current:15mA; (5)input power:0.375W; (6)peak input power:0.435W; (7)maximum die temperature:150℃; (8)peak die temperature:175℃; (9)functional temperature range:-55 to 125℃; (10)operating temperature range:-40 to 85℃; (11)lead temperature:300℃.
Features
LT1088CD features: (1)300MHz 3dB bandwidth; (2)1% accuracy DC-50MHz; (3)2% to 100MHz; (4)bandwidth flat over input voltage range; (5)50:1 crest factor; (6)20:1 dynamic range; (7)35V peak input; (8)thermally based operation; (9)fully specified thermal and electrical parameters; (10)standard IC packages; (11)resistive inputs.

Diagrams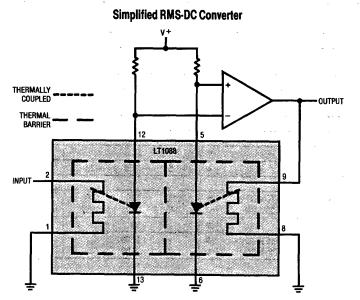 Image
Part No
Mfg
Description
Pricing
(USD)
Quantity

LT1088CD

Linear Technology

IC RMS/DC CONVERTER 20-LLC

Data Sheet

Negotiable
Image
Part No
Mfg
Description
Pricing
(USD)
Quantity

LT1001

Other



Data Sheet

Negotiable

LT1001A

Other



Data Sheet

Negotiable

LT1001ACN8#PBF



IC PRECISION OP-AMP SINGLE 8-DIP

Data Sheet



| | |
| --- | --- |
| 0-1: | $3.92 |
| 1-25: | $2.60 |
| 25-100: | $2.04 |


LT1001ACN8



IC PRECISION OP-AMP SINGLE 8-DIP

Data Sheet



LT1001ACH

Linear Technology

PRECISION OP AMP

Data Sheet

Negotiable

LT1001ACJ8

Linear Technology

IC PREC OPAMP 8-CDIP

Data Sheet

Negotiable